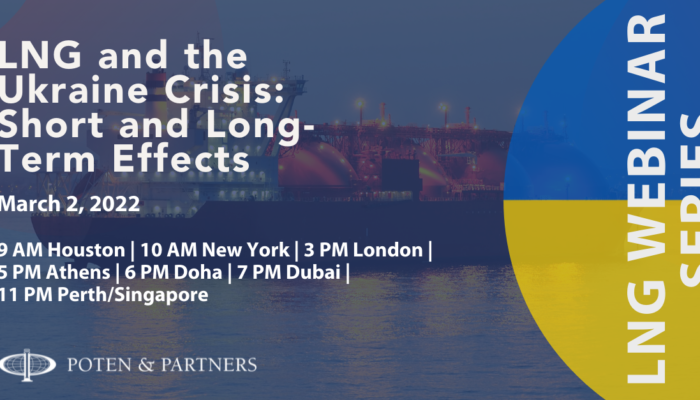 On-Demand Webinar: LNG and the Ukraine Crisis: Short and Long-Term Effects | March 2
The Russian invasion of Ukraine has touched off one the of biggest global crises in decades. Europe's reliance on Russian gas and the potential for sanctions is causing concern in an already tight market. LNG's role in the emerging energy shortages has come front and center. Join an expert panel from Poten & Partners as we discuss the near-term market impacts of the invasion and the long-term implications on global project development.
Some of the topics we'll address include:
• Can US LNG exports address gas supply issues in Europe in 2022 and beyond?
• If LNG supply is available, does Europe have the capacity for a significant increase in imports?
• What does the crisis mean for US project developers?
• Will sanctions affect Russian plans to expand LNG capacity?
9 AM Houston | 10 AM New York | 3 PM London |
5 PM Athens | 6 PM Doha  | 7 PM Dubai |
11 PM Perth/Singapore
Presented by:
– Jason Feer, Global Head of Business Intelligence, Poten & Partners
– Kristen Holmquist, Forecasting Manager, Poten & Partners
– Sophie Tan, Managing Editor, Poten & Partners
– Melanie Lovatt, LNG Finance Advisor, Poten & Partners