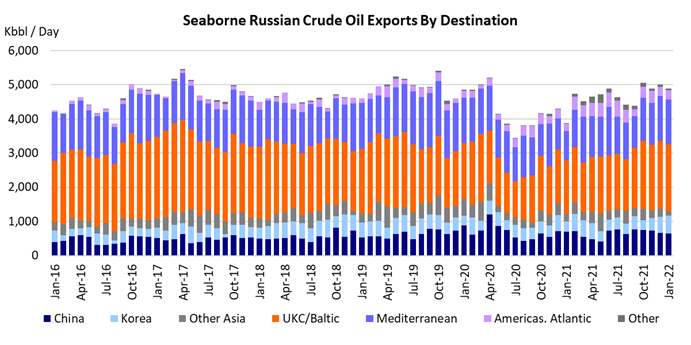 February 25, 2022
What has been the impact on the tanker market so far?
A little more than a month ago, we wrote a Tanker Opinion discussion the possible implications of a potential conflict between Russia and the Ukraine. This potential conflict has turned into an actual war and the implications are felt throughout the shipping markets.
In our previous opinion, entitled "Russian Roulette", we highlighted the major role that Russia plays in the global oil and gas markets. Russian seaborne crude oil exports reached about 5 million barrels per day (Mb/d) by the end of 2021, with Europe as the main destination. Pipeline exports make up another 1.5 Mb/d, split between Europe (Druzhba) and Asia (ESPO).
In terms of export locations, the ports in the Baltic and the Black Sea make up the majority of the volumes. After the conflict escalated and Russia invaded Ukraine, countries around the world have condemned Russia's actions and announced a variety of sanctions. None of these sanctions directly targets the Russian oil and gas industry, but the oil and tanker markets have been significantly affected nevertheless.
To read the full opinion, please fill out the form.