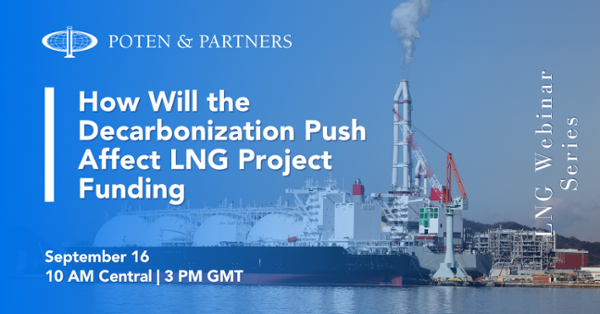 Webinar: How will the Decarbonization Push Affect LNG Project Funding | Sept. 16
Under pressure from climate change, LNG sellers are starting to offer carbon neutral supply. And oil and gas companies are not the only ones under pressure. Their financiers are increasingly being targeted and as a result, some banks and asset managers are looking to exit fossil fuels. While some lenders and investors are treating gas and LNG more favorably than oil and coal, others are not.
Stream now our webinar as we discuss how these developments affect the LNG sector. 
Topics addressed: 
• Where is the pressure being applied? 
• Will LNG projects across the supply-demand chain will get equal treatment?
• Funding sources that appear most vulnerable
• Can other sources fill the gap, such as those from China and Korea? 
• Will there be sufficient funding to meet future LNG sector expansion?
• Carbon neutral LNG offerings as a competitive advantage 
Presented by:
Melanie Lovatt, LNG Finance Advisor, Poten & Partners