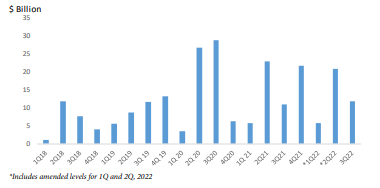 US Export Projects Poised to Boost Funding Totals
This current feature was extracted from the latest edition of Poten's LNG Finance in World Markets, a monthly service published on November 14, 2022.
External fund-raising for the LNG sector has stayed robust this year. It was buoyed in the second quarter when two US LNG export project developers secured billions of dollars in loans. Other US developers are poised to follow suit after signing agreements to sell a large portion of their production, which brings them nearer to the critical mass of offtake needed to obtain project finance loans.
However, with the first three quarters of 2022 over, it is unclear if they will finalize their commercial arrangements in time to wrap up funding this year. If not, 2023's totals, rather than this year's, could get a US-driven bump higher.
In 2Q Venture Global obtained $13.2 billion in bank loans for its Plaquemines LNG export project in Louisiana and Cheniere got $5.5 billion for its Corpus Christi Liquefaction Stage 3 in Texas (see US report in Liquefaction section). Australia also saw some activity this year, with debt secured for the Pluto Train 2 expansion in 1Q 2022 and a refinancing for Ichthys LNG in 3Q 2022.
To read the full article, please click here.