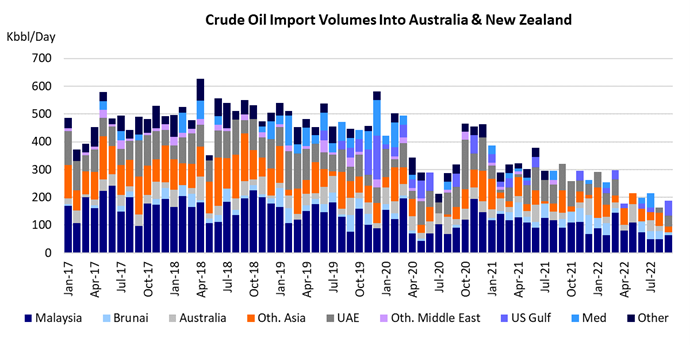 Changing Tanker Trades Down Under
September 16, 2022
The impact of refinery closures in Australia and New Zealand
Australia and New Zealand are a case study of how quickly circumstances can change in the oil markets.  Prior to the pandemic, smaller, older and less sophisticated refineries in both countries were already being squeezed by large-scale export-oriented refineries throughout the Middle East and Asia.
The continued growth of these facilities created oversupply and low refining margins in the region.  One by one, the refineries in Australia were closed and/or converted into import terminals.  The pandemic, which hit oil demand in Australia and New Zealand hard, appeared to be the final nail in the coffin.  New Zealand's only refinery, the 96,000 b/d Marsden Point Oil Refinery was converted into an import terminal and even the remaining two facilities in Australia in 2021 (with a combined capacity of 234,000 b/d) were at risk.
It was cheaper to import refined products from the large refineries in the region than to keep less efficient (money-losing) domestic facilities in operation. This logic was applied in many countries: throughout the Covid-19 pandemic, refineries were closed all over the world. In the U.S. alone 1 Mb/d of capacity has been closed or converted since January 2020.  Europe lost some 800,000 b/d during the same period and in Asia, Japan, Singapore and the Philippines are shutting refineries.  The assumption was that there was ample spare capacity in other parts of the world.
However, when the world started to come out of lockdowns after the pandemic, product demand recovered more quickly than expected, putting the global refined product supply chain under pressure.  Then Russia invaded Ukraine …
To read the full article, please fil out the form.