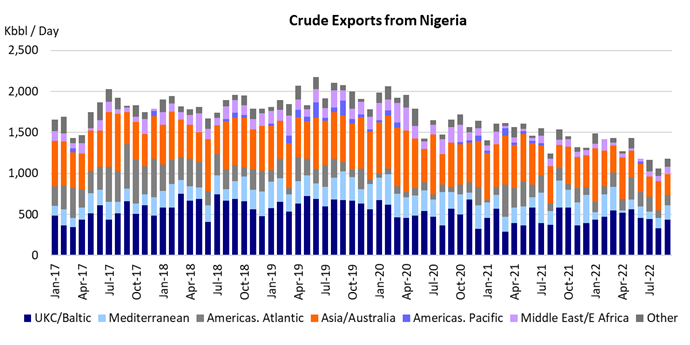 The Battle For African Barrels
October 14, 2022
The changes in African export flows will impact tankers
In August 2021, we wrote a Tanker Opinion about the impact that the new 650,000 b/d Dangote refinery in Nigeria will have on the tanker market once it starts up (27 August 2021, A Game Changer In Africa). At the time, the target date was in 2022, but now the startup is expected to be in the first half of 2023. As we explained in the previous Tanker Opinion, the impact of the new refinery on the fuel supply in Nigeria will be significant (a "Game Changer").
We also highlighted the implications for crude oil trade flows. Because of the war in Ukraine and the implications for European crude oil supply, this has become much more relevant now. Nigeria has been struggling to maintain their crude oil output since 2019 but continues to be a significant supplier to Europe. With the EU ban on Russian seaborne crude oil imports starting on 5 December 2022, Europe is looking to replace Russian imports from other sources.
As the Dangote refinery committed to process substantial volumes of domestic Nigerian crude oil, this task will become more complicated.
To read the full opinion, please fill out the form.