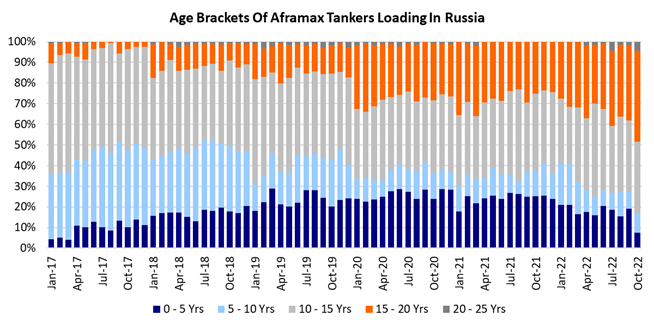 A Disaster Waiting To Happen?
November 4, 2022
Growing size of "dark fleet" increases the risk of accidents
In recent weeks, the tanker market observed two incidents that highlights again the potential risks associated with utilizing old, substandard tonnage for the transportation of crude oil and petroleum products. Last week, a 20-year old Aframax loaded with Russian crude was briefly adrift off the Spanish coast.
The vessel, which was en route from Primorsk to Turkey, needed to make repairs and was only allowed to proceed with her voyage after several deficiencies had been corrected. Also last week, a laden VLCC, this one 21 years old, ran aground off Indonesia.   The VLCC was reported to be carrying a cargo of crude oil from Malaysia to China. No spills were reported with either incident.
However, there are some common threads that are reason for concern. Both vessels were old, 20 and 21 years respectively, and both have had multiple deficiencies in the last 12 months. The VLCC in question was recently blacklisted by the US Treasury's Office of Foreign Asset Control (OFAC) because it was part of the so-called "Dark Fleet", involved in the illicit transportation of Iranian oil.
To read the full opinion, please fill out the form.