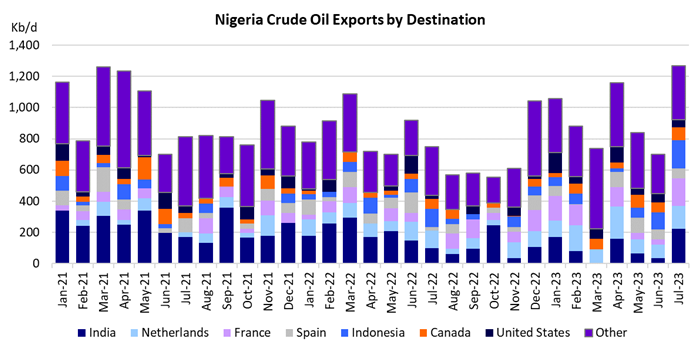 Nigeria's Refining Revival
August 4, 2023
Startup of Dangote will reshape West African trade flows
About 2 weeks ago, it was reported that the Nigerian Dangote refinery would start selling petroleum products by the end of July or the beginning of August.  While this timeline may have been overly ambitious, the eventual startup of this facility will transform the markets in West Africa.  Once the refinery is completely operational, it will be one of the largest refineries in the world, with a processing capacity of 650 thousand barrel per day (Kb/d).  The refinery is located outside of Lagos and was built by Aliko Dangote, the richest person in Africa.
The construction was hit by delays and cost over-runs, and in 2021, the Nigerian National Petroleum Company (NNPC) acquired 20% of the refinery. This reportedly gives NNPC the right of first refusal to sell crude oil to the refinery and provide them with access to 20% of the plant's output.  Nigeria is also upgrading some existing refineries that are currently operating significantly below their design capacity. This means that both Nigerian crude oil exports, as well as petroleum product imports, are likely to change dramatically in the coming months and years. This week we will look at the likely impacts of these altered commodity flows.
To read the full opinion, please fill out the form.