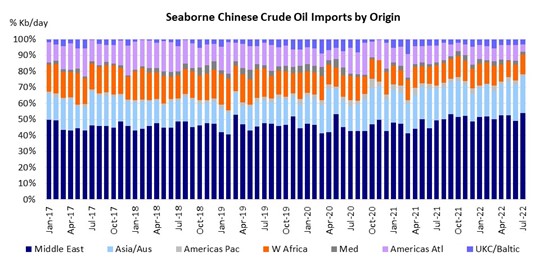 July 22, 2022
Changing Chinese import patterns scramble tanker trades
In the decade prior to Covid, Chinese crude oil imports were growing rapidly, from 4.1 million barrels per day (Mb/d) in 2009 to 10.1 Mb/d in 2019, an average annual growth rate of 9.5%.  Mainly as a result of the Covid pandemic, Chinese crude oil demand growth slowed to a crawl in recent years, with 2021 actually registering a 550,000 b/d decline.  So far in 2022, Chinese imports have been quite volatile as temporary Covid lockdowns in major cities dampened oil demand and stunted the recovery.  Statistics released by the Chinese General Administration of Customs showed that Chinese crude oil imports in June 2022 fell to a four-year low.
Given the importance of China for global ton-mile demand, this was bad news for the tanker market.  Since the Chinese crude oil imports are predominantly done on VLCCs (see Chart 1), these declines affect this segment the most.  However, the worst maybe behind us.  Movement data from Lloyd's List Intelligence indicates that July imports should be significantly higher, as more crude is heading towards China.
This increased activity is also reflected in the VLCC freight rates, which have shown an upward trajectory in recent weeks.  Is this recovery in Chinese oil demand and VLCC rates sustainable?
To read the opinion, please fill out the form.