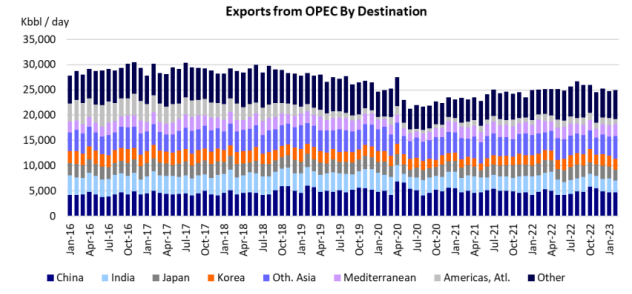 OPEC Cuts And Tankers Tank
April 7th 2023
OPEC+ Cuts Production To Boost Prices
In another case of "expect the unexpected", the OPEC+ consortium decided on Sunday, April 2nd to cut production by more than 1 Mb/d starting in May 2023. This decision was a surprise; the market did not see this coming. The psychological reaction was swift: oil prices rallied, and crude tanker rates initially dropped as people anticipated a tighter oil market and less oil on the water. It is unclear what the exact reasons are for this particular production cut.
Sources from Saudi Arabia stress that the move was not politically motivated, but a rational "preemptive and precautionary" decision due to the uncertainty in the oil markets and the increased risk of recession. At the end of the day, most pundits in the West seem to agree that the move was meant to raise prices. Saudi Arabia needs to fund a lot of expensive projects that are part of its Vision 2030 plan for the future, and prices in the $90 – $100/barrel range go a long way in paying for this.
Under the leadership of Crown Prince Mohammed Bin Salman ("MBS"), Saudi Arabia has become more assertive, and he pursues what is labeled a "Saudi First" economic policy, prioritizing national interests. The tanker market took a dim view of the planned production cuts.
Please fill out the form to read the article.