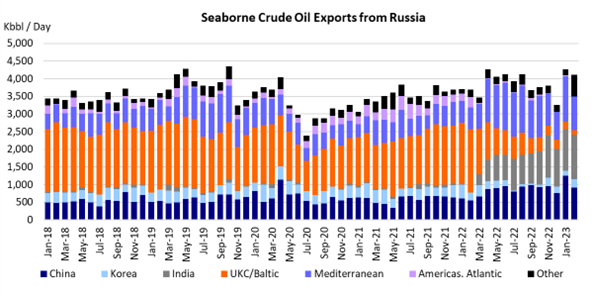 April 14, 2023
Will the OPEC+ production cut impact Russian crude oil flows?
OPEC+ unexpectedly decided on Sunday, April 2nd to cut production by nearly 1.7 Mb/d (aptly named by the IEA: "OPEC+ Sunday Shocker").  By Monday, oil prices had increased by about 6%.  In addition to the impact on international benchmark prices such as Brent, WTI and Dubai, it also pushed the price of Russian Urals crude up.  As a result, Urals pricing jumped above the G7 imposed price cap of $60/barrel.  If Urals pricing is maintained at these elevated levels (or goes even higher), the tanker industry will start to wonder about the implications for Russian oil flows.
To read the full opinion, please fill out the form.