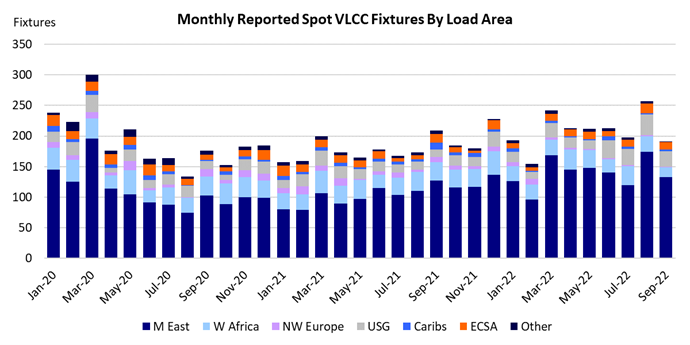 September 23, 2022
VLCCs are back in favor, but will it last?
The VLCC segment was one of the hardest hit after the massive OPEC+ production cut.  This was not surprising given that most of the cutbacks came from long-haul crude oil exporters in the Middle East and West Africa, which are heavy users of VLCC tonnage.  For parts of 2021 and into 2022, the earnings of older VLCCs without scrubbers were negative.
These negative TCE's caught the headlines, just like the $250,000/day rates did when a Saudi-Russian price war coincided with a historical collapse in oil demand during the early stages of Covid-19.  Even though OPEC members gradually brought production back, rates for the Very Large Crude Carriers failed to respond, despite many pundits predicting an imminent recovery: there was simply too much overcapacity in the market.  Even when the Russian invasion of Ukraine wreaked havoc in global oil and tanker markets, it was initially the Aframax, Suezmax and product tanker markets that benefited, it did not seem to have any impact on the VLCCs.  That is, until the end of June 2022.
Suddenly, the market took off. Within two months, earnings for a standard VLCC equipped with an exhaust scrubber (allowing it to use cheaper HSFO as bunker fuel) went from $10,000/day to $100,000/day.
What caused this sudden improvement, and, more importantly for tanker owners, are these higher rates sustainable?
To read the full analysis, please fill out the form.