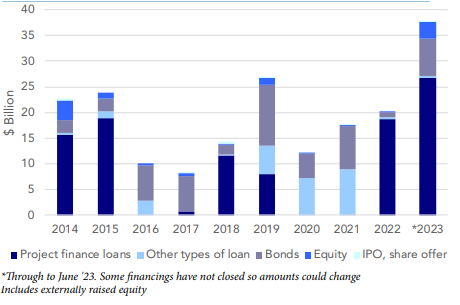 Rio Grande LNG Obtains Financing, Signals Early July FID
This current feature was extracted from the latest edition of Poten's LNG in World Markets, a monthly service published on June 30, 2023.
NextDecade has pushed back a final investment decision (FID) on Phase 1 of its Rio Grande LNG export project in Texas until early July as the Houston company works on the final details of financial agreements with a lender group that includes Asian, European, Middle Eastern and North American banks.
The 17.5-MMt/y project has received binding commitments from a syndicate of lenders in an amount sufficient, that when combined with expected project equity funding, will allow FID on the first three out of five liquefaction trains at the Port of Brownsville site.
NextDecade previously told the market that the company would reach FID before the end of 2Q 2023 but said on June 29 that it had pushed back its target date due to the observance of holidays around the world. The Muslim world began celebrating Eid al-Adha on June 28 while US banks will be closed in observance of the Fourth of July holiday.
The US LNG export project, which will be the third to reach FID this year, comes roughly two weeks after NextDecade signed supply and investment deals with French energy giant TotalEnergies and US private equity firm Global Infrastructure Partners (GIP).
To read the full article, please click here.