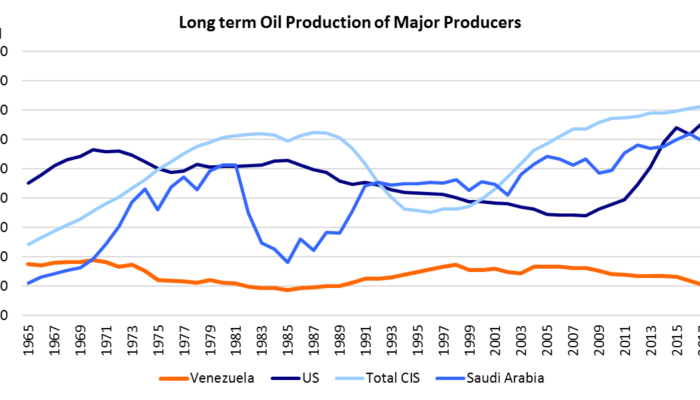 June 19, 2020
Sanctions against Venezuela are tightening
The situation in Venezuela is going from bad to worse.  A recent article in Bloomberg mentioned that Venezuela currently produces only 374,000 barrels per day (b/d).  To put this into perspective, this is a little more than 10% of the country's production 55 years ago according to the BP Statistical Review of World Energy 2020, which has oil production data going back to the 1960s.  Venezuela was one of the five founding members of OPEC in 1960 (the others were Iran, Iraq, Kuwait and Saudi Arabia) and in 1965, the country produced 3.5 Mb/d on average. 
At the time, this made Venezuela the third largest oil producer in the world, after the United States and the Soviet Union, but before Saudi Arabia (Chart 1).  That should not be a great surprise, since Venezuela has the largest crude oil reserves in the world according to the BP Statistical Review.  At 303 billion barrels, is exceeds the reserves of no.2 Saudi Arabia (297 billion barrels).  
Although Venezuela was not able to hold on to its top position as a producer it remained a very important source of crude oil.  As recently as 2009, average daily production was still above 3 Mb/d.  However, years of mismanagement, rampant corruption and – in recent years – ever tightening sanctions have taken their toll. 
To read the article, please fill out the form.