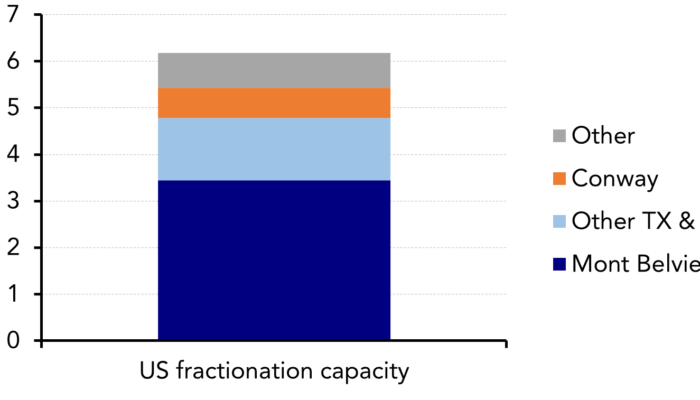 Oklahoma Fractionator Outage May Weigh on US Inventory Build
This current feature was extracted from the latest edition of Poten's 
LPG in World Markets
, a monthly service published on 
August 5, 2022.
Earlier in July, ONEOK shut its 210,000 b/d fractionator plant in Medford, Oklahoma following a fire and explosion. The company told local media that the accident damaged some processing equipment and towers. The plant is still shut and could be months before restart.
ONEOK will investigate the accident thoroughly and repair will take some time. Additionally, an accident like this may require approval from regulators like FERC or PHMSA as well as third party validation before restarting.
Some market players have said the unit will not be operational before 1Q 2023. ONEOK told Poten that there is no update at this time.
Average operating rates at ONEOK's fractionators in the Midcontinent were above 90% before the outage. Which implies the outage will reduce about 64,000 b/d propane, 20,000 b/d butane and 12,000 b/d iso-butane production.
At an operating rate of 90%, the Medford fractionator supplies about 3.5% of US propane. Each month the plant is shut as many as five VLGCs worth of LPG may be lost, provided the mixed LPG stream is not fractionated elsewhere in the US.
To read the full article, please click here.