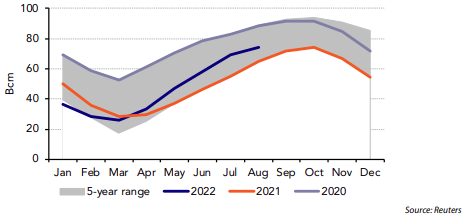 More LNG needed in Europe despite storage growth
This current feature was extracted from the latest edition of Poten's LNG Market Outlook, a monthly service published on August 26, 2022.
Europe is on track to meet targets set by the EU to have inventories 80% full before the upcoming winter. In mid-August, inventory levels were near 75% full at around 74 Bcm with LNG imports playing the critical role in the build-up of inventories. Europe imported roughly 107 Bcm in 2022 through July, while pipeline imports were 12% lower.
While countries with smaller storage capacities like Spain, Belgium and the UK are at the 80% mark or better, countries with larger storage capacities like Germany, Italy and the Netherlands are falling short and must increase injections. Among those with larger capacity, only France has met the target.
To read the full article, click here.