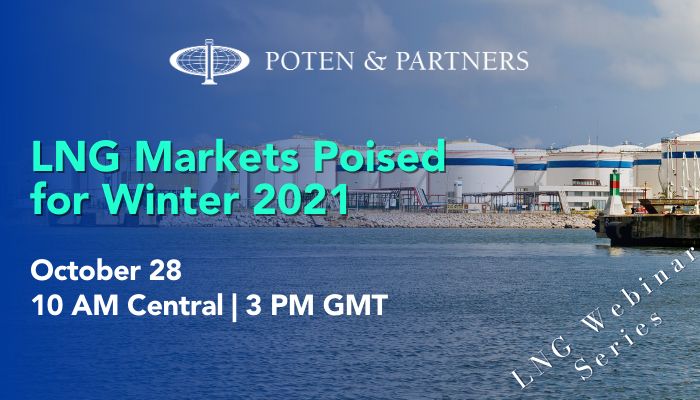 Webinar: LNG Markets Poised for Winter 2021 | October 28
The build-up to the winter season has begun. With global prices firming up and an active tender season in Asia, the winter market looks to be much stronger in the first three quarters of 2020. The weather is expected to be closer to normal than last year, but while the prospect of a global resurgence in Covid-19 looms, uncertainty remains.
Join Poten for the latest installment in our LNG webinar series on October 28 as the global head of Business Intelligence, Jason Feer provides updates on contracting, markets and expectations for 4Q 2020 and 2021.
Topics to be addressed include:
• Market activity ahead of winter 2020/2021
• What types of deals are getting done in today's market
• Update on latest contract deals signed and their pricing trends
• Regional supply & demand factors for LNG
• How US elections may influence LNG markets going forward
Presented by: 
Jason Feer, Global Head of Business Intelligence, Poten
Share this webinar or register a colleague:
http://energy.poten.com/webinar/lng-markets-poised-for-winter-2021-oct-28