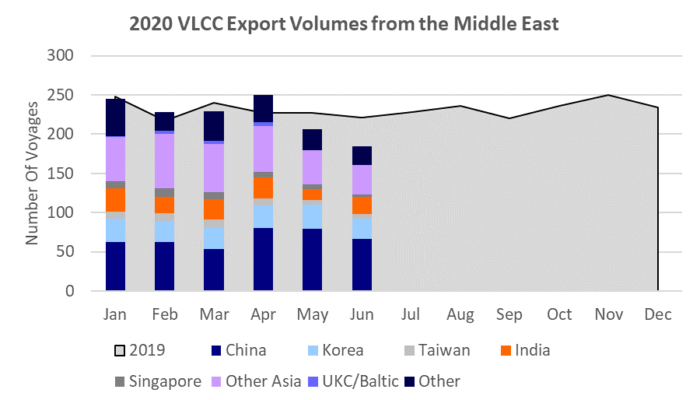 China Is More Dominant Than Ever
August 7, 2020
How the pandemic changed VLCC flows and volumes
This is the second episode of our series on the changes in tradeflows as a result of Covid-19.  This week, we will focus on the VLCCs.  Rates experienced a rollercoaster ride in the first six months of the year.  They started strong, coming off robust earnings in 2019 and boosted by IMO 2020.  Rates in January averaged $70,000/day on the benchmark AG-Far East route. 
In February, when Covid-19 became a problem in China, the bottom fell out and rates dropped to $12,000/day.  But not for long.  The Saudi – Russian oil price war in March/April raised VLCC earnings to near-record levels, approaching $250,000/day on several occasions.  However, amid a collapse in oil demand, OPEC+ cut production. 
As a result, demand for floating storage, which had boosted the tanker market, subsided, and VLCC earnings came back to earth.  Amid all the turmoil in rates, VLCC tradeflows in 2020 showed interesting developments compared to the same period of 2019.
To read the full article, please fill out the form.