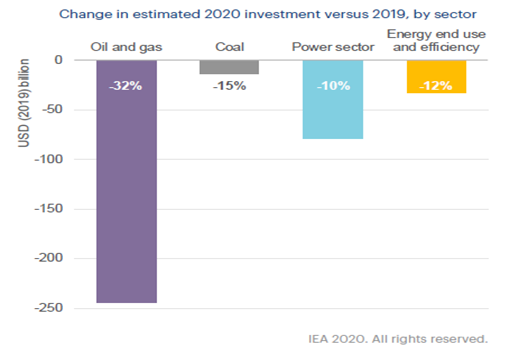 Another Boom – Bust Cycle?
May 29, 2020
Significant decline in energy investment expected for 2020
On Wednesday, May 27, the International Energy Agency (IEA) published their 5th annual assessment of investment and financing across the energy markets: "World Energy Investment 2020".  As expected, it did not paint an optimistic picture of the current situation and future outlook.  The IEA estimates that global energy investment in 2020 will be down 20% from 2019, a reduction of $400 Billion.  All sectors are down, even investment in renewable energy will be 11% lower.  However, the biggest investment declines are taking place in Oil & Gas (down 32%) and in particular in the U.S. shale sector, which is forecast to invest 50% less in 2020 than in 2019. 
To put all of this in perspective: pre-Covid-19, the IEA estimated global energy investment in 2020 to be up 2% from 2019.  It is no surprise that Covid-19 has had be biggest impact on oil.   The IEA estimates that, at the high of the lockdowns in April, the movements of more than 4 billion people worldwide were restricted in one way or another.  Since mobility and aviation represents some 60% of global oil demand, year-on-year demand for oil was down by around 25 million barrels per day (Mb/d) in April.  For 2020 as a whole, the IEA expects oil demand to drop by 9 Mb/d on average. 
The future is more uncertain than ever, and the fate of the energy markets depend to a large extend on the policy responses that are implemented in the coming months to deal with this crisis.
Please fill out the form to read the article.