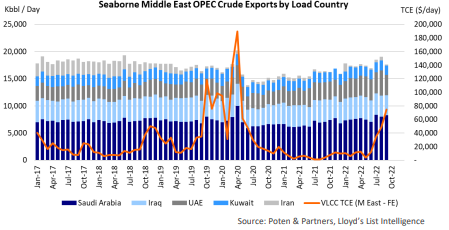 October 7, 2022
The unintended consequences of OPEC's production cut
During their first in-person meeting since Covid hit in 2020, the members of the OPEC+ oil production cartel decided this week to cut their product quota by 2 Million barrels per day (Mb/d), starting in November. Because many OPEC members are already producing well below their quota, the actual cut in in output will likely be around 860,000 b/d, with Saudi Arabia taking the lion's share (440,000 b/d).
The other OPEC members that will likely cut production are also in the Middle East: the United Arab Emirates, Kuwait and maybe Iraq. Russia, a key member of the OPEC+ consortium, is producing already well below its quota and is not directly impacted (although it will benefit from higher prices). OPEC+ insists that the decision is not political but purely based on projected supply/demand balances. It is meant to provide "security and stability to the energy markets." At face value, a substantial output cut by several key Middle Eastern oil producers would be a negative for the tanker market.
However, the fate of the tanker market over the next six months will also be influenced by the pending EU ban on seaborne Russian crude (and product) imports, the winding down of U.S. releases from the Strategic Petroleum Reserve and the (potential) recovery of Chinese oil demand.
Please fill out the form to read the article.