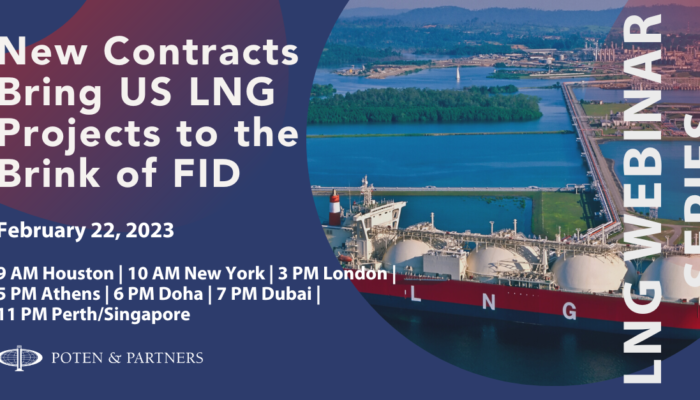 On-Demand Webinar: New Contracts Bring US LNG Projects to the Brink of FID | February 22
2023 could be the year that the long-awaited next wave finally surges. Poten expects that two to four US liquefaction projects could be approved in 2023 after a year that saw record numbers of long-term contracts signed. Join our next webinar as we discuss the prospects for proposed North American projects.
Topics to be addressed include:
• After record low contract prices over the past two years, where are price levels now and where are they headed?
• What are the prospects for other projects in Qatar, Mozambique and elsewhere?
• How does long-term supply look? Will the next wave of US LNG be the last wave or is there still room for additional projects?
February 22, 2023
9 AM Houston | 10 AM New York | 3 PM London |
5 PM Athens | 6 PM Doha | 7 PM Dubai |
11 PM Perth/Singapore
Presented by:

Jason Feer
Global Head of Business Intelligence
Poten & Partners