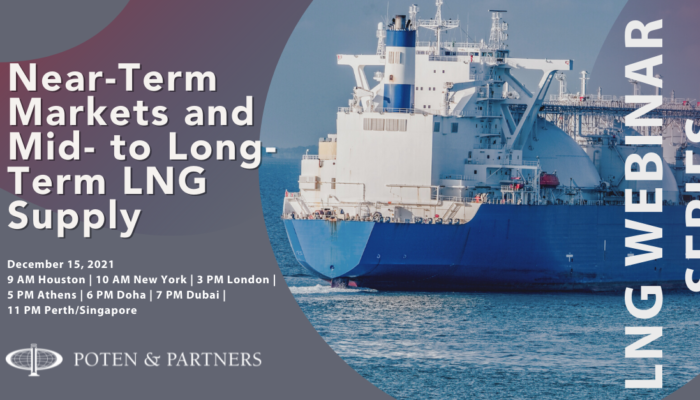 On-Demand Webinar: Near-Term Markets and Mid- to Long-Term LNG Supply | December 15
Even as the short-term outlook remain volatile and uncertain, the outlook for LNG supply availability in the mid- to long-term continues to evolve as project delays and cancellations associated with higher costs have led to a marked shift in expectations. In recent weeks, negotiations between buyers and sellers have begun to produce indications that higher term contract prices are likely.
Join Poten & Partners for an update on today's market and an outlook on longer-term supply in an upcoming webinar on December 15. Stream now using this link.
Presented by: 
• (Moderator) Jason Feer, Global Head of Business Intelligence
• Sophie Tan, Managing Editor, Business Intelligence
• Irwin Yeo, Senior Analyst Asia Pacific Business Intelligence
December 15, 2021
9 AM Houston | 10 AM New York | 3 PM London |
5 PM Athens | 6 PM Doha  | 7 PM Dubai |
11 PM Perth/Singapore