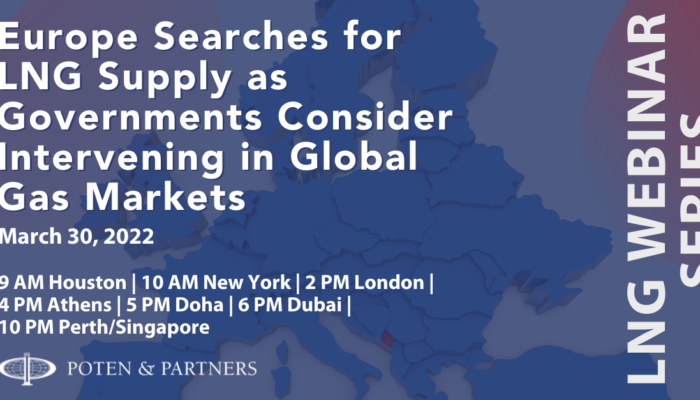 On-Demand Webinar: Europe Searches for LNG Supply as Governments Consider Intervening in Global Gas Markets | March 30
The US and EU have announced an agreement to boost European imports of US LNG by 15 Bcm this year. But there were few details in the announcement making it unclear what, if anything, governments can do to address the tight and volatile global LNG market. European buyers were reluctant to outbid Asian importers for supply this year. Perhaps the war in Ukraine will change that.
Join a panel of Poten market specialists as we discuss the most recent developments in global LNG and natural gas markets.
Topics discussed:
Can the US supply more LNG to Europe in the short term and how would that work? Are US projects benefiting from growing European interest in boosting LNG imports to replace Russian gas What can governments do to manage global supply in the short term and boost LNG supply in the long term? How are Asian buyers reacting to higher prices and government announcements? Will regional participants send volumes to Europe or bid to keep LNG supply in the East? Are sanctions affecting gas flows so far, and if not, is there a risk that escalating sanctions could start to affect gas markets and pipeline supply?
March 30, 2022
Presented by: – Jason Feer, Global Head of Business Intelligence, Poten & Partners – Sophie Tan, Managing Editor, Poten & Partners – Melanie Lovatt, LNG Finance Advisor, Poten & Partners – Irwin Yeo, Senior Analyst Asia Pacific Business Intelligence, Poten & Partners