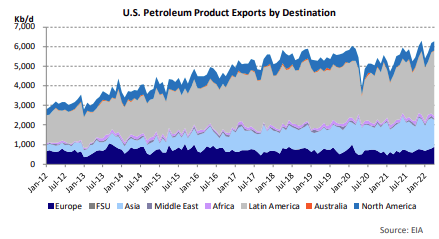 1 September 2022
U.S. export restrictions would boost product tanker demand
Hurricane season in the Gulf of Mexico typically runs every year from June 1 through November 30. According to the National Oceanic and Atmospheric Administration, an average Atlantic season spawns seven hurricanes and peaks in August, September, and October. This year, for the first time in 25 years, the month of August has passed without a named storm in the Atlantic, even though meteorologists have warned that this year's season would be "above normal."
However, this does not mean that we are out of the woods yet. Several strong hurricanes could still form in September and October. Severe storms in the U.S. Gulf pose a significant risk to the U.S. oil industry. The U.S. Gulf coast is home to 56 refineries that process more than 9 million barrels per day (Mb/d), representing 55% of total U.S. refining capacity.
In addition, the offshore U.S. Gulf produces 1.8 Mb/d of crude oil. As Chart 1 shows, big storms in the U.S. Gulf can have a major impact on domestic oil balances.
Please fill out the form to read the article.