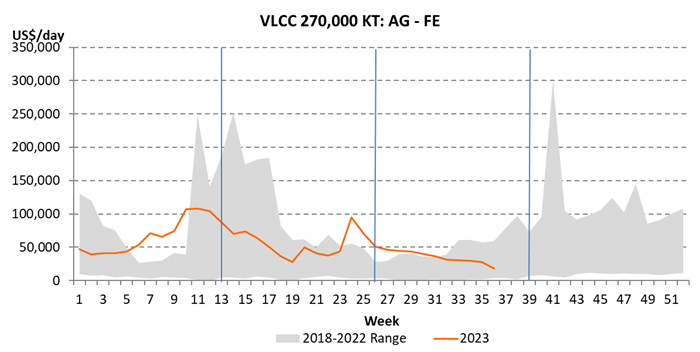 September 8, 2023
Is the tanker market facing a typical summer lull in 2023?
As we have observed in previous Weekly Opinions, tanker rates, both for crude oil and product tankers, are both cyclical and seasonal.  However, in many years, external factors, like wars, pandemics and economic shocks create so much rate volatility that they overwhelm the market's seasonal factors, and it appears they are no longer there.  In recent years, both the Covid-19 pandemic and the Russian invasion of Ukraine created external shocks to the market that crushed seasonal factors.  However, 2023 has been a more "normal" market so far and we have seen rates, especially for the larger crude tankers weaken throughout the summer.  Does that mean that we are experiencing the more typical summer doldrums this year and, more importantly, are we at the cusp of a seasonal recovery in tanker demand and rates?
To read the full opinion, please fill out the form.