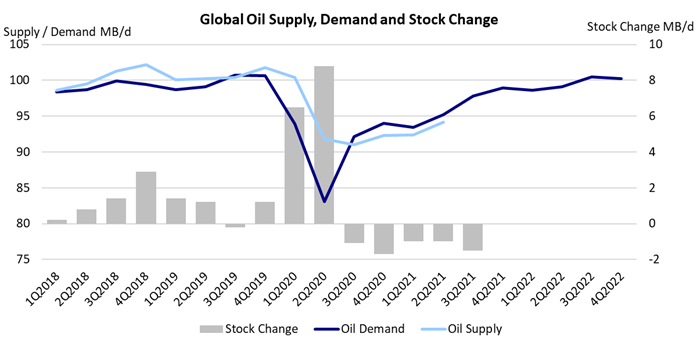 29 October 2021
OPEC+ seems to have regained its grip on the oil markets
In early 2020, the OPEC+ group was in disarray.  Saudi Arabia and Russia, the leading producers of the oil exporters organization, disagreed on how to respond to the Covid-19 pandemic, which was then rapidly spreading across the globe.  A brief price war broke out, which proved to be very costly for the OPEC members, and a boon for the tanker market.  Shortly thereafter, realizing their mistake, OPEC circled the wagons and dramatically cut production.  OPEC's production cut caused a free fall in tanker rates and earnings have been depressed since.  While oil demand has picked up in line with the recovering global economy, OPEC+ has been reluctant to bring back production.
The oil exporters are only slowly trickling oil back into the market and they are still producing several million barrels per day below pre-pandemic levels.  This has kept crude oil tanker rates at extremely low levels.  Non-OPEC (in particular U.S. shale production) has not reacted to the increase in prices and it appears that the cartel is in the drivers' seat for the moment.  However, the situation may not be as comfortable as it appears on the surface.
Please fill out the form to read the article.