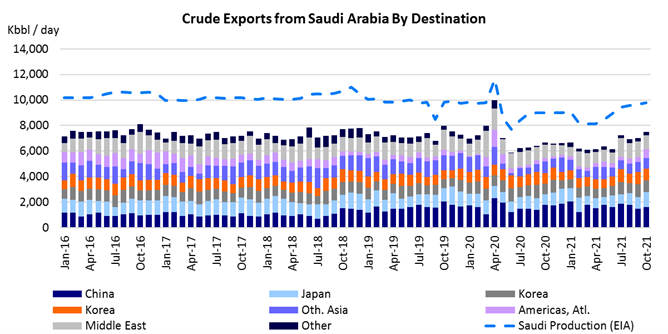 Saudi Arabia: The Kingdom Of Oil
10 December 2021
The influence of the OPEC oil powerhouse is significant
Saudi Arabia is the largest oil producer and most important member of the Organization of the Petroleum Exporting Countries (OPEC).  Together with Russia, they largely determine the direction of the cartel.  As OPEC's largest producer (and exporter) the actions of the Kingdom have a profound impact on the crude oil tanker market.  Saudi Arabia also controls a large domestic refining complex.
The vast majority of its refining output is exported and as a result, the Saudis are a major player in the international refined products trades as well.  While the major energy developments involving Saudi Arabia are done within the OPEC (or now OPEC+) framework, we thought is it would be interesting to take a closer look at the crude oil and refined product flows of the Kingdom in recent years to highlight their importance.
To read the full article, please fill out the form.