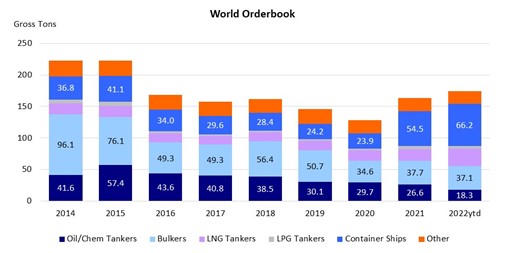 August 19, 2022
The tanker orderbook continues to shrink
Over the last several months, the tanker freight market has been quite volatile, as competing supply and demand factors drive the market up and down.  Oil demand forecasts are mixed, the situation in Ukraine remains dire and the global economy faces headwinds in the form of high inflation and rising interest rates.  However, compared to the challenging second half of 2020 and the disastrous year 2021, both crude oil and product tanker rates have staged a strong recovery.  Even VLCCs have joined the party in recent weeks.  What is remarkable against this backdrop of a recovering tanker market is the almost complete lack of ordering.  The last time a shipowner placed an order for a VLCC was in June 2021, 14 months ago.
One month later, in July 2021, the last Suezmaxes were contracted.  Panamax/LR1?  No orders since April 2020.  The only tanker segments that have seen some contracting have been the Aframax/LR2s and, to a lesser extent, the MRs.  According to our fleet data, 6 Aframax sized tankers and 7 MRs were ordered in 2022 YTD.  Nothing was ordered in any of the other segments.  Let's delve a little deeper into the why, or rather, why not.
To read the full opinion, please fill out the form.