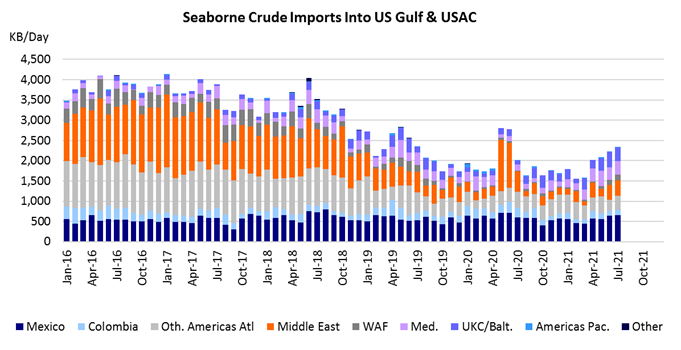 August 06, 2021
U.S. crude oil imports are rebounding as the economy reopens
The United States started to import crude oil in meaningful quantities after World War II. In the 1970s, the growth in imports accelerated, increasing from about 1.5 Million barrels per day (Mb/d) in 1970 to close to 7.0 Mb/d in 1979.  The Iranian revolution in 1979 sparked the world's second oil shock.  Declining production in Iran caused oil prices to increase rapidly.  In the aftermath, U.S. imports declined precipitously and bottomed out at 2.1 Mb/d in February 1985.  In the 20 years from the mid-1980s until 2006, U.S. crude oil imports increased rapidly, reaching than 10.7 Mb/d in 2006.
A combination of lower demand growth and higher domestic production caused imports to fall gradually until 2015.  At the end of 2015, the ban on U.S. crude oil exports was lifted.  While U.S. shale production also increased during this period, exports grew more quickly than production and this temporarily contributed to an increase in U.S. crude oil imports.  As U.S. refiners adjusted to the new crude oil sources, domestic shale oil started to replace imports (in the U.S. Gulf) and imports declined again.  When Covid hit, oil demand collapsed and both domestic production and imports took a hit.  Now that the U.S. is in recovery mode, how is this impacting crude oil imports?
To read the full opinion, please fill out the form.