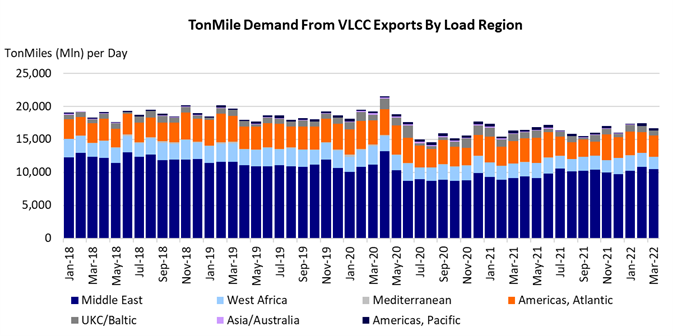 VLCC Outlook Remains Foggy
April 29, 2022
VLCC TonMiles increased in the first quarter of 2022
According to Lloyd's List Intelligence vessel movement data, VLCC TonMiles increased by about 4.8% in the first quarter of 2022 compared to 2021 Q4 and by 4.6% compared to the first quarter of last year.
The oil market and trade flows during the first quarter were affected by some major events: First of all, by the invasion of Ukraine, which started in February 2022 and second by the resurgence of Covid in China which led to significant lockdowns in a number of major cities. Both of these developments will continue to affect trade flows for at least the coming months. The impact of the invasion of Russia and resulting sanctions could change trade flows for years to come (or permanently).
This week we will take a closer look at how and where VLCC trade flows changed in the first quarter.
To read the full article, please fill out the form.