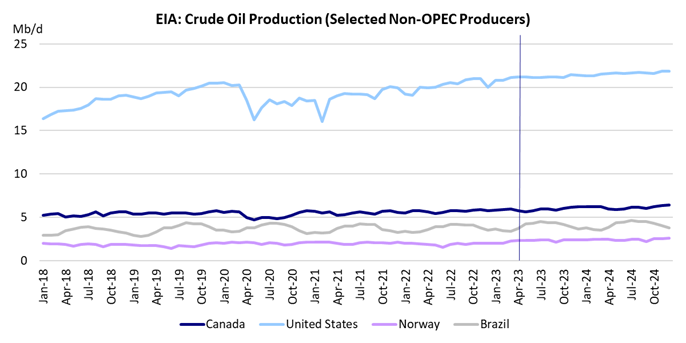 Where Will The Oil Be Coming From?
April 21, 2023
Which non-OPEC producers are increasing output?
A group of OPEC countries announced a crude oil production cut stating in May 2023.  Together with a continuation of a Russian production cutback of 500 Kb/d, the total reduction could amount to 1.6 Mb/d, if implemented fully.  When OPEC announced their decision, sources in Saudi Arabia were referring to the planned reduction in oil production as "preemptive and precautionary".  The uncertainty in the oil markets and the risk of a recession in major economies were the main reasons for the decision.
While it remains to be seen if, and by how much this cutback will actually be implemented, it is prudent to take a look at alternative sources of supply and see if they can pick up the slack if OPEC does cut back and demand remains stronger than the cartel expects.  We will also look at the potential implications for the crude oil tanker markets.
To read the full article, please fill out the form.