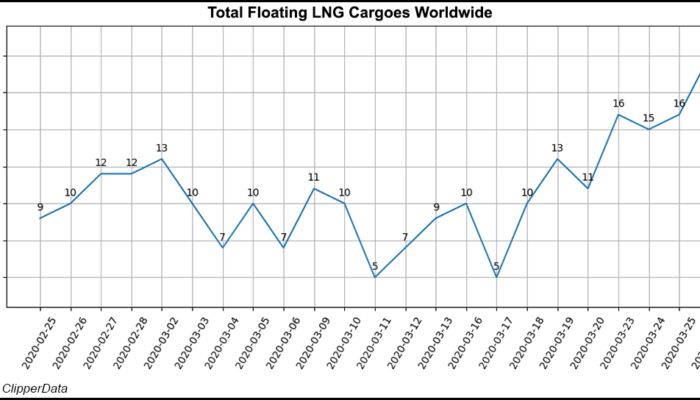 Natural Gas Intel: Coronavirus Thrusts LNG Market Further into Turmoil as More Cargoes Float with Nowhere to Go
25 March 2020
The uncertainty and quickly changing dynamics were deepening an imbalance in the liquefied natural gas (LNG) trade that has plagued the global market since last year. Ship brokerage Poten & Partners warned Wednesday during a webinar that the virus could weigh on LNG for the next 18 months. U.S. export terminals, the firm said, would likely be the first to cut supply as producers respond to restore balance. 
"I think we're going to most likely see some pretty significant cargo cancellations," said Poten's Jason Feer, global head of business intelligence. "We saw a few this spring, but there were places to put them and a lot of those cargoes were at least in the money on a cash basis or a variable cost basis. By fall, though, we think you're going to have to see some pretty significant response in terms of supply. We think U.S. cargoes are likely to shoulder most of the cuts, but other producers are already talking about reducing supply."
To read the full article, click here.