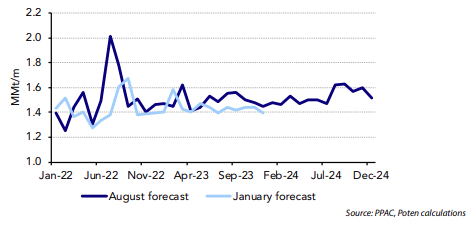 Imports for India in 2022 higher than previously anticipated
This current feature was extracted from the latest edition of Poten's LPG Market Outlook, a monthly service published on August 12th, 2022.
India's LPG imports surged in July to roughly 2 MMt with most of the cargoes coming from the Middle East. Lower prices from the Middle East suppliers incentivized higher imports. There are healthy import figures thus far in August as well. As a result, the annual import forecast for India has been adjusted higher by roughly 700,000 t to 18 MMt/y for 2022.
Natural gas prices remain elevated while the price of LPG has fallen in recent months. Consumers from the industrial and petrochemical sectors are switching to other fuels like fuel oil, naphtha, LPG, and coal as a result.
It may be the case that LPG imports are higher than expected if there is an increase in demand for LPG from the industrial and petrochemical sectors as an alternative to expensive natural gas. Imports for 2023 are forecast to stay flat at around 18 MMt/y before rising to 18.3 MMt/y in 2024.
To read the full article, please click here.