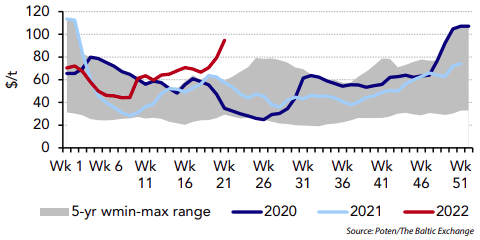 Spot VLGC Rates Reach 16-Months Highs
LPG in World Markets
June 2022
This current feature was extracted from the latest edition of Poten's LPG in World Markets, a monthly service published on June 8, 2022.
Baltic LPG Indices hit a 16-month high in late May buoyed by tight VLGC availability in both East and West of the Suez regions due to firm vessel demand. The benchmark Ras Tanura to Chiba assessment (BLPG1) has increased by 147% in three months from a year-to-date low of $42.64/t as of 1 March 2022 to $105.14/t on 30 May 2022. The index has also been trending over the five-year (2017-2021) weekly average for the past 12 weeks.
One of the most crucial factors exerting upwards pressure on freight rates this year has been the decline in prompt availability of VLGCs in the Middle East. Many vessel owners and operators opted to position their tonnage on the US-Far East trade route where it was more profitable compared to the Middle East-Far East trade during most part of the year.
To read the full article, click here.