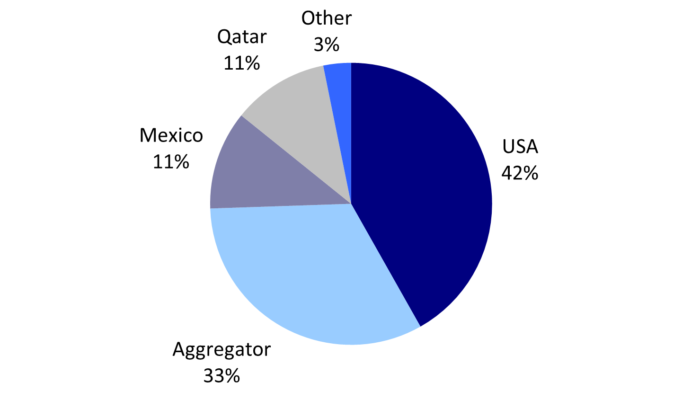 1H 2023 Contracting Pace Slows
This current feature was extracted from the latest edition of Poten's LNG in World Markets, a monthly service published on July 31, 2023.
LNG contracting activity slowed in IH 2023 after hitting record highs last year amid tight markets and price volatility following Russia's 2022 invasion of Ukraine. A total of about 36.2 MMt of sales and purchase agreements (SPAs) have been signed since the start of 2023, almost 20 MMt short of the volume signed in the same period of 2022. Tentative agreements such as head-of-agreements (HOA) and memorandums of understanding signed in 2023 so far amount to around 8.7 MMt.
Volumes from the US and Mexico represented more than half of the global total, with 42% and 11% of total SPAs signed in the first six months of 2023 respectively, as developers worked to reach final investment decisions (FIDs). These included export projects sponsored by Mexico Pacific LNG (MPL), Sempra, Venture Global and NextDecade – which took FID on Rio Grande LNG on July 12 after announcing a 5.4-MMt/y, 20- year SPA with TotalEnergies, the largest deal inked in 2023 so far.
Qatar signed a 4-MMt, 27-year contract with Chinese state-owned giant CNPC in the first half of 2023, and more Qatari volumes are expected to be sold this year as Qatar is heard to be in talks with Asian buyers, including Thailand's PTT and at least one potential Japanese offtaker.
To read the full article, click here.