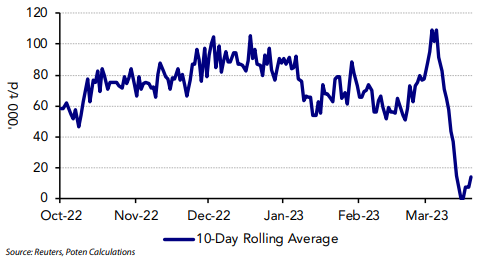 Strikes Hit French LNG Import Terminals
This current feature was extracted from the latest edition of Poten's LNG Market Outlook, a monthly service published on March 27, 2023.
Strikes at each LNG import terminal in France reduced terminal availability and imports have slowed in March. Strikes at two terminals at the port of Marseille-Fos and one terminal at the port of Montoir are ongoing at the time of writing, but the Dunkirk terminal operated by Fluxys in northern France has resumed operations after a brief strike.
Negotiations between parties are still ongoing and it's unknown when all terminals will be back to full capacity. The impact of the strikes on LNG imports is given in the top graph. The graph shows the 10-day rolling average for LNG imports in France.
Prior to the strikes in early March, the 10-day rolling average hit its highest point since December 2022 but fell to zero by the middle of the month when the strikes began.
To read the full analysis, click here.