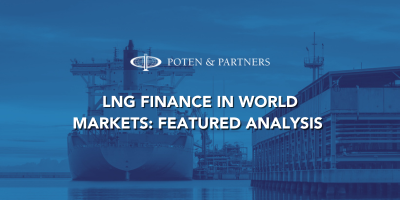 Ship Funding Edges Higher in 1Q 2023
This current feature was extracted from the latest edition of Poten's LNG Finance in World Markets, a monthly service published on April 21, 2023.
LNG ship funding stayed robust in 1Q 2023, reaching its highest quarterly level in three and a half years. This follows a buoyant 2022 when it jumped 37% to $8 billion from $5.7 billion in 2021. The financing secured in 1Q 2023 is for LNG carriers, floating storage and regasification units and floating liquefaction. Funds were raised by FSRU specialists Hoegh LNG and Excelerate, FLNG players Golar LNG and New Fortress Energy, and companies growing their fleets of LNG carriers such as Flex LNG and Capital Products Partners.
FSRUS took the largest share of funding in 1Q 2023, at $1.3 billion, followed by LNG carriers at $694 million and then FLNG units at $474 million. Some funding is difficult to break down by vessel because it was obtained for multiple types of ships serving the LNG industry – there was $377 million of this type of funding in 1Q 2023. However, some LNG shipping companies are privately-owned, so funding can be difficult to track and tallies may understate total amounts raised.
To read the full article, click here.