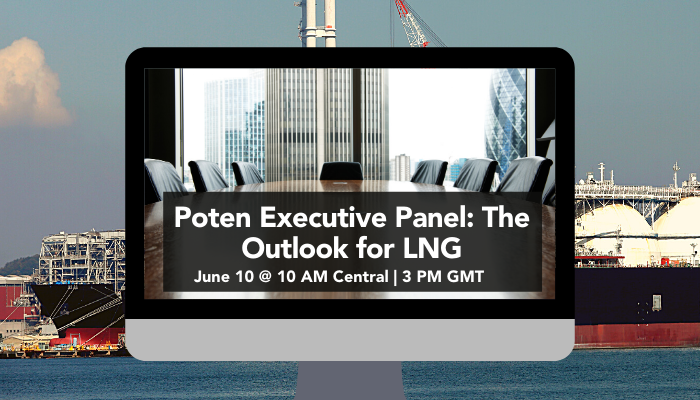 Webinar: Poten Executive Panel: The Outlook for LNG | June 10
The turbulence in LNG markets and the global economy over the past few months has been unprecedented. Falling demand, record low LNG prices, Covid-19 impacts, and an oil price war have led to waves of cargo cancellations and deferrals and volatile freight rates. The LNG industry has never faced such a broad set of challenges but despite the difficulties, the industry has responded effectively so far. The challenges for the longer term are now coming into view.

Stream now for a senior-level panel discussion including Chairman Emeritus Michael Tusiani as we consider where we are today and how the industry will be affected going forward.
Topics discussed include:
• Are there lessons we can learn from the current crisis and how do these compare to market challenges in the past?
• How soon will demand growth resume, especially in Asia, and what are the factors to watch for as the recovery gains strength?
• How has the freight market been affected so far and is there a danger of excess shipping capacity for the foreseeable future?
• How badly has new project development been affected and could delays today lead to price spikes in the future?
• Will today's low prices stimulate demand and is that demand sustainable?

Panelists include:
Michael Tusiani, Chairman Emeritus
Jefferson Clarke, Head of LNG Shipping Analytics
Gordon Shearer, Senior Advisor
Moderator: Jason Feer, Global Head of Business Intelligence