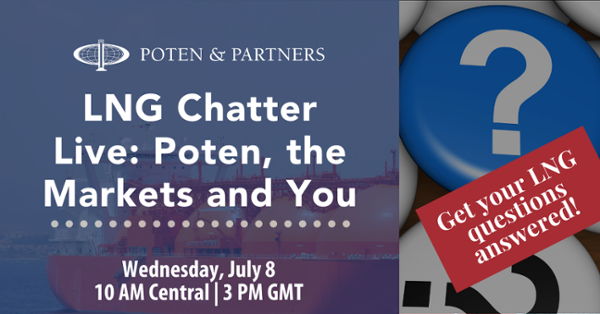 Webinar: LNG Chatter Live: Poten, the Markets and You | July 8
Over the last fourteen weeks, we've sliced, diced and analyzed LNG market data to share our perspectives and provide updates throughout Covid-19 and economic disruption. Next Wednesday, we return with another Poten panel and look to you, our audience, to help determine the topics and curate an engaging, informal conversation.

Stream now as we escape the confines of PowerPoint and discuss our audience's favorite topics.

Discussion themes may include:*
• LNG cancellations
• Regional supply & demand
• Imports and exports
• Short-term expectations
• Long-term contracts
• Liquefaction project development
• *Your LNG topic ideas

Panelists include:
-Jason Feer, Global Head of Business Intelligence
– Kristen Holmquist, Business Intelligence Forecasting Manager
-A surprise guest