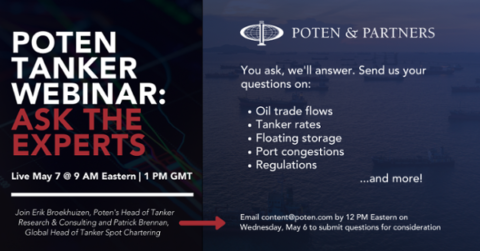 Webinar: Ask The Experts | May 7
With all the uncertainty in the tanker markets, it is difficult to know what will happen next. Even the experts at Poten don't have all the answers. However, with our collective knowledge and experience, we can provide context and help put the current market in perspective.
Stream this webinar to hear Erik Broekhuizen, Poten's Head of Tanker Research & Consulting and Patrick Brennan, Global Head of Tanker Spot Chartering as they address the questions we received ahead of the webinar.