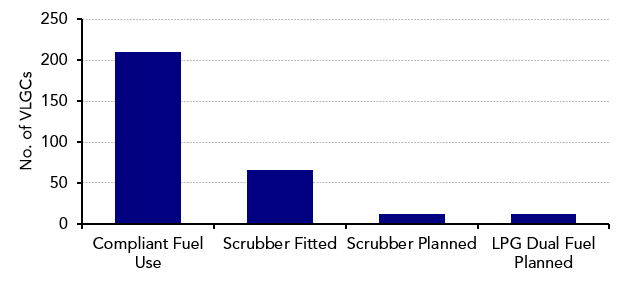 Scrubbers lose sheen as LFSO-HFSO price spread narrows
LPG in World Markets
September 2020
The price spread between LSFO and HSFO, a useful measure to calculate how much money will be saved on bunker costs, has narrowed significantly since January making scrubbers a less lucrative option to comply with IMO 2020.
The price spread between LSFO and HSFO at Singapore, a key bunker hub, plunged from a high of around $296/t in January to just around $60/t in August. The pandemic-related oil price crash has been the biggest reason for the narrowing spread, and forward sentiments as reflected by crude futures indicate that the price spread might not widen in the near future, which has compelled many owners to rethink their strategies for emission compliance. Around 70% of the existing VLGC fleet plans to use LSFO, while 22% have been fitted with scrubbers and a further 4% planning for scrubber installation. Just around 4% of the existing fleet will be using LPG as marine fuel.
To read the full article, click here.