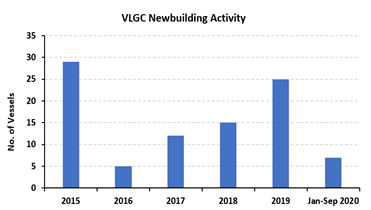 VLGC fleet expansion gains momentum
LPG in World Markets
October 2020
In 2019, the rate of growth in the net VLGC fleet supply increased as there were more vessel deliveries and no scrap sales. A total of 18 vessels were delivered in 2019 and 16 VLGCs joined the existing fleet during the first nine months of 2020, with three more expected in 4Q, 20 in 2021 and nine in 2022.
No vessels have been sent for recycling since the beginning of 2019 with a few old VLGCs utilized as floaters, while others continued to generate value for their owners in restrictive trade lanes. The total VLGC order book stands at around 11% of the current fleet. In 2019, 25 new orders for VLGCs were placed with firming sentiment and a positive outlook on seaborne trade and freight markets.
However, only seven VLGC orders have been placed in 2020 as the continued spread of Covid-19 and a weaker outlook for LPG supply/demand eroded owners' confidence.
To read the full article, click here.