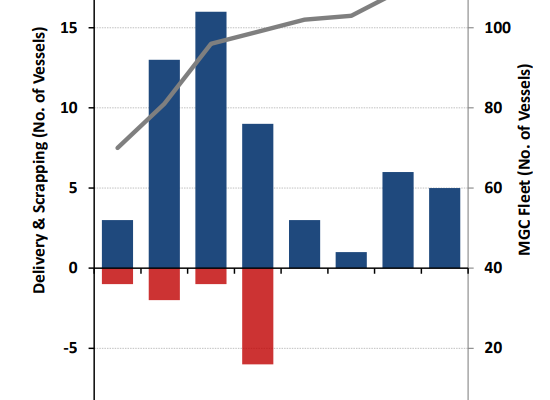 Softening sentiments for larger vessels pull down MGCs
LPG World Markets
August 2020
A combination of new deliveries and pressure from larger tonnage groups saw average one-year Time Charter (TC) rates for MGCs drop precipitously in 2017-18. The MGC fleet expanded by 16% with 13 vessel deliveries in 2016. A record number of 16 MGCs hit the water in 2017, pushing the total MGC fleet to just shy of 100 ships, according to Poten's records. However, the number of deliveries declined to nine vessels in 2018 and to just three vessels in 2019.
Expanding trade volumes and firming freight markets for larger segments helped TC rates for MGCs to rise 24% in 2019; however, the rates have declined in 2020 between January and July largely due to the pandemic-related decline in demand. Although VLGC and LGC TC rates have recovered month-on-month in July on tight vessel supply in key load regions, it has not trickled down to MGCs.
To read the full article, click here.