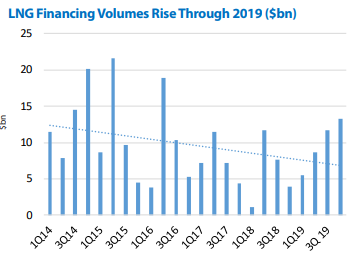 Covid-19 Threatens LNG Funding after 2019 Jump
LNG Finance in World Markets
March 2020
LNG funding activity jumped to a three-year high in 2019 after a sluggish 2018 but could slip back sharply this year as a result of the coronavirus pandemic.
The 2019 figures were boosted by liquefaction which was up 75% and funding in the LNG shipping sector, which doubled. LNG import funding, however, slipped by about 50%.
In 2019 only two new liquefaction project financings were completed, both in the US state of Louisiana. They comprised $5.8 billion for Venture Global's Calcasieu Pass and $1.5 billion for Train 6 at Cheniere's Sabine Pass. US liquefaction financing jumped to an all-time high in 2019, but most of it was refinancing of project finance debt that had closed in previous years.
The total funding for 2019 was meant to be much higher because sponsors of the two land-based projects planned for Mozambique had expected to secure around $30 billion in project finance debt in 2019, but the transactions were delayed (see Liquefaction section).
In 2019 LNG funding climbed to around $39 billion, up from $24 billion in 2018 and $31 billion in 2017. But it failed to reach the levels seen in 2016 ($42 billion), 2015 ($44 billion) and 2014 ($53 billion). LNG funding in 4Q 2019 was up from both the previous and year-ago quarters, hitting its highest quarterly level since 2Q 2016.